The Sales challenge
To shorten the sales cycle and maximise cross-sell and up-sell opportunities, it is vital you get to know your customers as individuals by gathering every bit of information you can on them. No easy task when your data is fragmented across various sales and marketing automation wizardries, CRM systems and spreadsheets – not to mention LinkedIn! And, without complete visibility over your prospects, customers and partners, sales opportunities remain hidden, pipeline visibility is shrouded and sales performance slumps.
Personalize each business relationship to your client's needs
Everything you need to identify new prospects, convert leads into opportunities and keep on top of what your customers think and say about you can easily be instantly captured for immediate use. Just add and connect all your data sources on our RAPid Cloud Analytics Platform. This is user-driven (you don't need us) 'analytics as a self-service' – and the joined-up view will enable you to flexibly tailor your offer to each client with a response speed that keeps them happy and you competitive.
Clients tell us they just can't replicate the data they have on RAPid because they've made it so personalised it gives them huge competitive edge. This is down to 'ICE' — our unique set of powerful data integration, cleansing and enrichment tools which incorporate 'machine-learning' technologies.
Not only can you explore, manipulate and transform your data with an interface that learns from you, but your whole team can interact with that data, adding their collaborative, transactional and personal knowledge. Better still, RAPid's scientific analytical capability means you no longer have to use 'gut' as a strategic compass to estimate the impact of different market forces, you'll get predictive customer insight that will help you prioritize your sales efforts.
One Platform. Complete Sales Visibility
By putting all your data in a single place, you'll enjoy new levels of insight by collaborating with colleagues internally to continually improve the quality of the data loaded into the RAPid Cloud Data Platform. You won't lose out on sales opportunities because you'll have complete control and visibility over who is influencing purchasing decisions, understand what your prospect cares about, why a particular customer is unresponsive and so much more. Ultimately you'll be able to focus your efforts on cultivating long-term, profitable business relationships by making it easy for customers to work with you.
SALES TEAM PERFORMANCE
Uncover actionable information to optimize sales performance
Analyze performance of the sales team at every stage of sales cycle
Know the conversion rates of leads to prospects, prospects to opportunities, opportunities to closed deals
Track top performers and tailor their incentive structure based on closed opportunities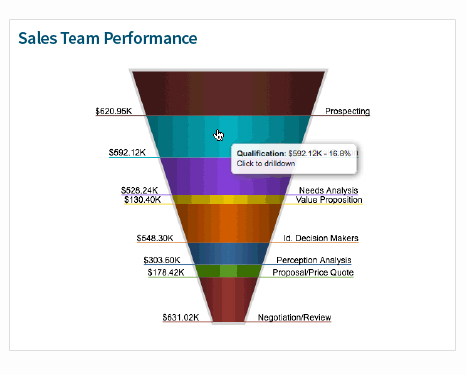 SALES INSIGHT
Get real-time, in-context visibility into the entire sales process, from prospect to "win"
Assess conversion of opportunities based on industry, organization size, product, geography
Strategically segment and profile customers to focus more on customers that are most likely to purchase
Unmatched visibility into your customers as well as their profitability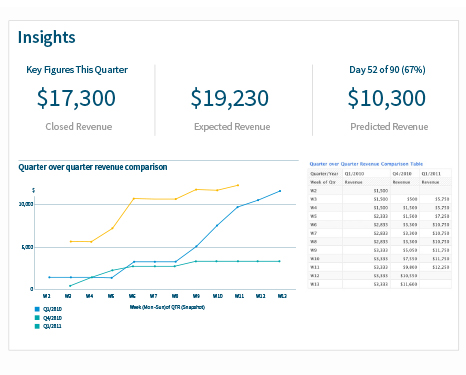 OPPORTUNITY MANAGEMENT
Analyze and track what opportunities are in your funnel
Qualify customers through information gathering to target them for cross-selling/up-selling opportunities
Analyze opportunities by value and close date
Analyse closed vs. won opportunities and closed vs. lost opportunities