When you need to instantly know your total worldwide headcount or what the diversity breakout of your workforce is, where do you go?
Wait no longer for mission critical HR data you need to make informed decisions about your people and your organization.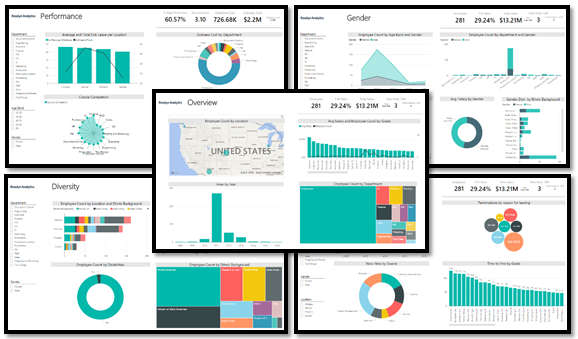 RAPid One-Click HR Analytics is an innovative ready-to-use solution that comprehensively unifies all of your core HR data with other valuable sources of information from within and outside of your organization including social networks and external job sites. This umatched visibility empowers you to improve recruitment and retention goals - and more.
Unlike traditional BI reporting systems, RAPid One-Click HR Analytics significantly accelerates time to insight and employee productivity by automating manual data collection, transformation and management processes in Rosslyn's cloud analytics platform called RAPid.
Deployable in days, and requiring no IT support, RAPid One-Click HR Analytics is the fastest way to get visibility of your entire workforce.
The next generation in HR analytics provides you with a suite of self-service tools to easily integrate, cleanse and enrich data for visualization in interactive dashboards, such as:
Connectors that extract data from source systems such as SAP and Oracle starting in minutes
Ready-to-use data warehouse with write back capability that securely stores unified data
Dynamic data schema that responds to the ever changing format of information
Self-service data classification and tagging engine empowers users to update data
Easy-to-use tools to quickly cleanse and improve data quality 24/7
Collect and connect employee survey results to core HR data
Drill-down management dashboard for visualizing HR metrics and scorecards
Benefits
•
Analyze and monitor recruitment and retention investments
•
Produce timely compliance reports on employee diversity
•
Review and benchmark compensation and benefits packages
•
Forecast workforce planning including labour and skills requirements
•
Increase the business capability for assessing organizational effectiveness