My wife often says, "To save money, you need to spend money." I think there is some truth to her maxim.
Today, thousands of procurement professionals are increasingly doing a lot with few resources. Unfortunately, this under-investment is not sustainable for a function that plays such a critical role in corporate success.
A 2018 Deloitte survey of chief procurement officers reveals not just their priorities but also the breadth of what the profession can do to support business objectives. Cost reduction continues to be the number one priority with 78% of respondents focused on cost savings this year followed by bringing new products to market (58%), managing risks (54%), market expansion (48%) and improving cash flow (40%).
Yet, if we look at HOW procurement organizations succeed, more investment in procurement processes and capabilities is required today so they have the appropriate technologies, data and skills tomorrow.
I believe most procurement organizations struggle to effectively achieve their full potential and objectives such as cost savings due to a lack of aligning procurement processes and capabilities to business outcomes.
In Ardent Partners' latest annual State of Procurement Technology report, the analyst firm reveals that the top five technologies deployed by procurement leaders are, in order to adoption: eProcurement (64%), eSourcing (51%), Contract Repository (45%), Supplier Performance Management (44%) and Business Networks (38%).
With most CPOs seeking cost savings, and most investing in the above-mentioned technologies, there appears to be a disconnect between current software implementation and desired business outcomes. This misalignment costs companies and their procurement organizations by leaving millions of potential savings on the table.
The team at Rosslyn Data Technologies, in partnership with Gerard Chick, an award-winning author, speaker and consultant to procurement and supply chain professionals, has created a tool to help you efficiently generate business value by understanding which specific procurement processes and capabilities you should implement or strengthen. These business values or outcomes include intelligent cost savings, profitability, cash flow, market share, reputation, revenue and competitive advantage.
Using the below the diagram from our tool (read from the bottom-up), for Intelligent Cost Savings, Customer Satisfaction is the most important key performance driver followed by Quality, Delivery, Total Cost Reduction and Proficiency. These key performance drivers are mapped to important procurement capabilities.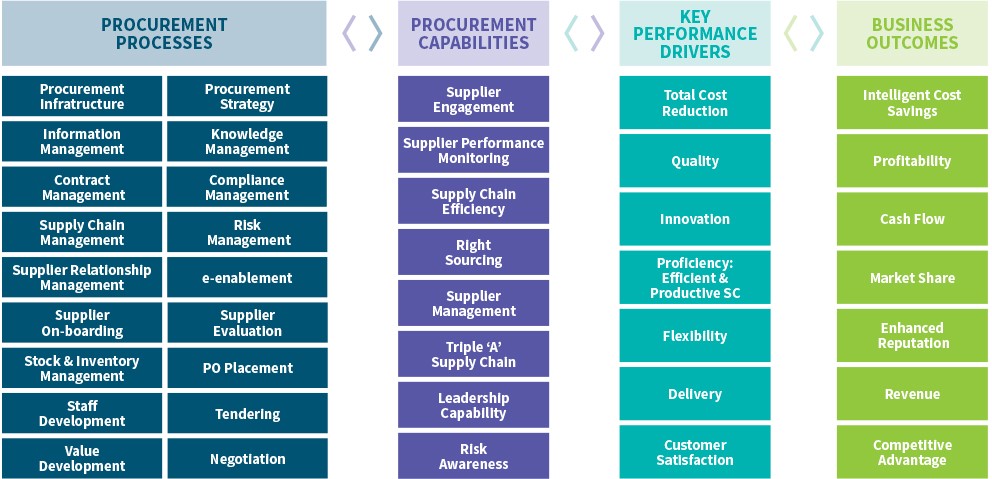 To ensure Customer Satisfaction, you need to have strong procurement capabilities in Supply Chain Efficiency and Leadership (in order of importance). Looking at Supply Chain Efficiency, it is important that you establish processes that improve Compliance Management, Value Development and Contract Management (in order of importance).
After reading this article, if you feel that you may not have aligned your procurement processes and capabilities to business outcomes, you are not alone. Only 43% of CPOs have tightly aligned their organization's resources to business objectives, according to Ardent Partners.
Now is the time to review your procurement infrastructure and ensure it is supporting your procurement strategy, which is aligned to your corporate objectives. In doing so, you may find gaps in your technology landscape. You may also learn that you have invested in technology that is not fully utilized to support your processes and capabilities. Again, you will not be alone because 47% of CPOs are focusing on improving their department's use of technology by investing in new systems and improving the use of their current systems.
To support you, we are hosting a webinar that will provide you with answers to help you succeed. Register here to learn how to develop a procurement technology roadmap that will transform your organization's processes and capabilities and help you effectively align your procurement strategy to corporate objectives.