OnDemand
Spend analytics for everyone has always been a founding mission at Rosslyn Analytics. Today, we are closer to making this a reality.
Every so often, there is a generational leap in technology that radically transforms the way people work – for the better.
Rosslyn Analytics has launched a new and exciting cloud-based spend analytics solution that provides spend visibility in minutes, from extraction of data from ERP systems such as SAP and Oracle, to visualization in drill-down dashboards.
Watch this video and see for yourself how quick and easy it is to have same day spend analytics. You will also learn:
How our new solution will increase your productivity by automating the extraction, transformation and load (ETL) of data directly into interactive dashboards
How to use self-service tools that empower you to continuously improve the accuracy of data classification, for relevant and personalized visualization
The endless business value you are now able to create from spend data, including greater savings cost savings and supplier risk mitigation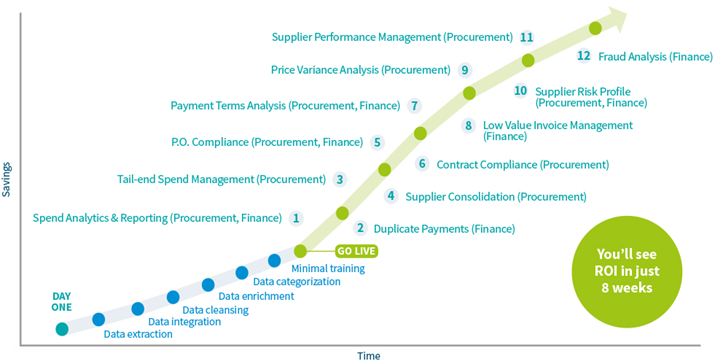 Transform your ability to make better, faster sourcing decisions and intelligently manage, negotiate and buy from your suppliers. In a matter of hours, you can go from analyzing spending trends and assessing the performance of suppliers against contracted payment terms to calculating the cost of paying suppliers early.
This is a ground breaking product release for the procurement profession. Designed for small and medium sized companies – in addition to large corporations seeking to validate or expand current spend analysis initiatives - you now have instant access to inaccessible data.