The UK is one of the most "at risk" countries if Greece goes bust
Rosslyn Analytics' analysis of supplier relations shows high level of risk for Turkey, Serbia and Bulgaria
London – 7 July 2015: An analysis of 160,628 Greek companies reveals that 70 British companies are Greek-owned and at risk due to the financial crisis, according to an in-depth analysis of thousands of supplier relations by Rosslyn Analytics – the fast-growing publicaly-listed provider of cloud-based data technologies.
The in-depth analysis showed that worldwide the ten countries at risk, with the most Greek-owned local companies are Turkey (415); Serbia (273); Bulgaria (216); Romania (135); US (112); Cyprus (78); Russian Federation (74); United Kingdom (70); Italy (48); Poland (40). This puts the UK as the eighth most at-risk country in the world, by measure of Greek-ownership of local businesses.
"The Greek crisis is a wake-up call for globally-minded business leaders," said Hugh Cox, Chief Data Officer, Rosslyn Analytics. "Most businesses have very little insight into who their suppliers and partners really are. These 70 British businesses could at best have financial repercussions or at worst go bust at any moment, and chances are, most of the companies that rely on their products or services have no idea of this risk, because they don't know that they are Greek-owned.
"And this is just the beginning. With China's economy slowing and other European markets set to suffer from the Eurozone crisis, companies need to have more visibility of suppliers, customers and partners – based in the UK as well as abroad – to truly understand the impact of global economic situations on their business, and mitigate financial risks."
Rosslyn Analytics' team of data scientists used its RAPid Big Data Cloud Analytics Platform, which contains one of the largest databases of interconnected corporate information to determine the commercial connections between hundreds of British and Greek companies and, as a result, the risk profile of companies.
The data points show:
The ten countries with the most Greek owned companies are: Turkey (415); Serbia (273); Bulgaria (216); Romania (135); US (112); Cyprus (78); Russian Federation (74); United Kingdom (70); Italy (48); Poland (40)
The ten countries most at risk if Greek-owned companies go bankrupt (basedon declared turnover): Cyprus ($7,785,543,975); Romania ($3,666,664,089); Turkey ($3,495,486,917); Russian Federation ($2,835,839,711); Bulgaria ($1,813,560,795); Belgium ($1,355,129,123); United Kingdom ($727,433,563); Malta ($541,002,354); US ($428,360,000); Serbia ($291,579,374)
There are 70 British companies with parent companies in Greece. The three largest, based on declared turnover, are:

Hellenic Petroleum Cyprus Ltd (owned by Hellenic Petroleum S.A.)
Guava International Ltd (owned by Greek Finance Sole Shareholder Co. Ltd)
OTE Plc (owned by Hellenic Telecommunications Organization S.A.)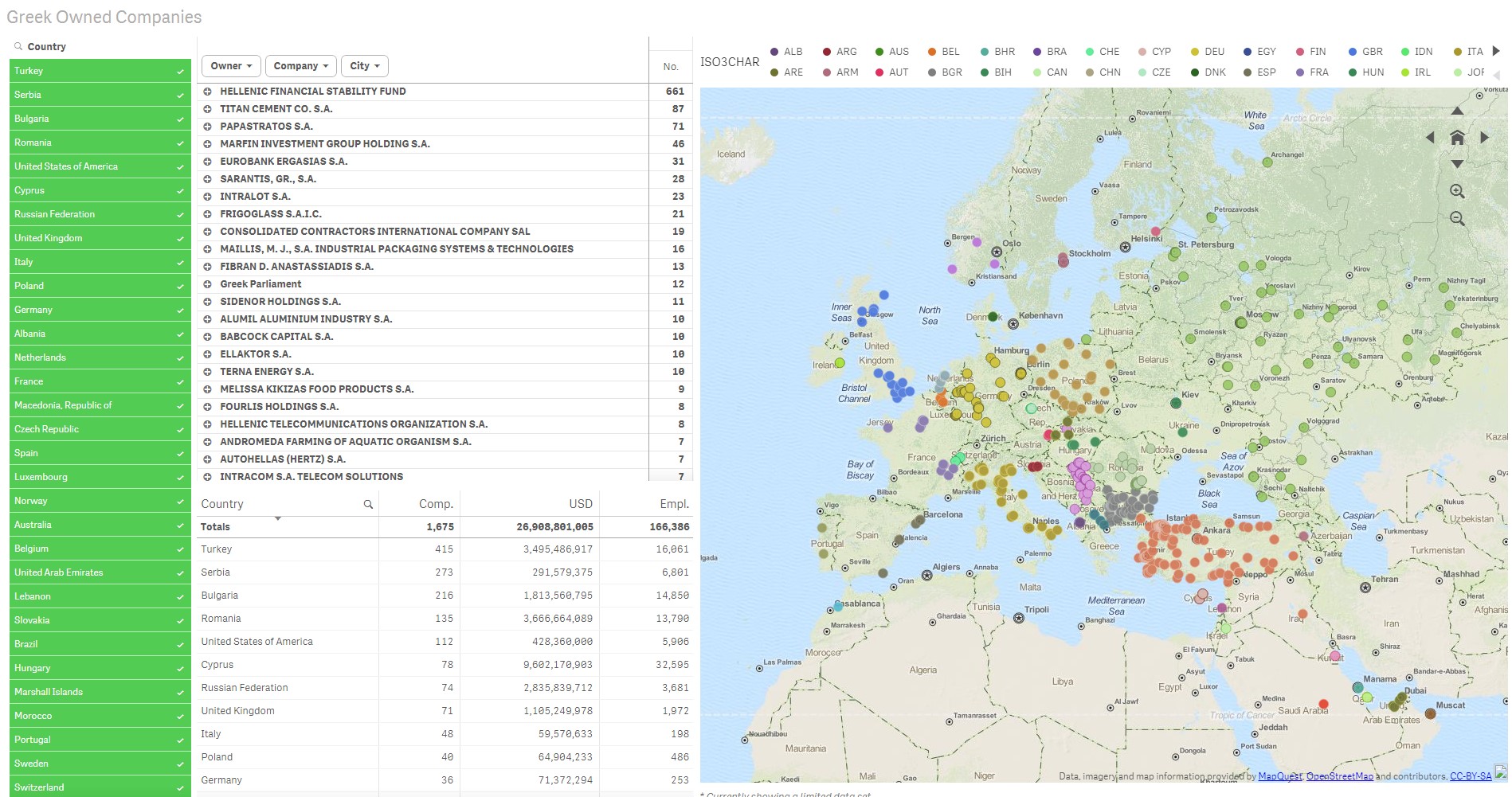 This image shows the concentration of Greek owned companies by country.
The two countries holding most of the debt and political influence over Greece – Germany and France – do not have a significant number of companies that are owned by Greek parent companies. Germany and France own 62 billion euros and 43 billion euros, respectively, of Greek debt. (Source: BBC)
"In today's interconnected world, management teams must have complete visibility of a myriad of risks, including their financial exposure to markets that may be slowing down," added Hugh Cox.
Risk Assessment
For an analysis of your company's risk exposure to Greece, please contact Rosslyn Analytics at sales@rosslynanalytics.com.
About Rosslyn Analytics
Rosslyn Analytics (AIM: RDT), a leading global big data technology company, helps organizations create new business value from previously inaccessible data. We have developed exciting award-winning technologies designed specifically for business users to easily access and turn complex data into meaningful information via our RAPid Big Data Cloud Analytics Platform. No other platform, on premise or in the cloud, is such a game-changer, with an intelligent data technology stack that includes human-driven machine learning and open source technologies such as Hadoop, MongoDB and Elasticsearch. For more information including a demo, visit www.rosslynanalytics.com or @RosslynBI.