OnDemand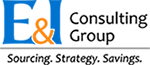 A Primer for Higher Education
Procurement teams are increasingly tasked with identifying cost savings opportunities, driving process transformation and efficiency, and ensuring system-wide transparency and compliance. But getting the data is frequently a huge challenge and unacceptably time consuming. Even worse, you can rarely get near the level of detail required to adequately understand your spend.
One of the most valuable tools in the arsenal of the modern procurement professional is spend analytics. When used properly and on a large scale, spend analytics helps everyone within the institution make the best and most informed decisions. Repeatedly.
Join E&I Consulting Group and Rosslyn Analytics for a free webinar to see what the next generation of spend analytics looks like. You'll learn how you can:
Gain complete control by taming your large volumes of unconnected data
Integrate your spend data into a single source of information
Cleanse and categorize your spend data so it's complete and accurate (with minimal work by you)
Analyze and manage your data with easy to use reports and dashboards
Quickly identify cost savings opportunities and compliance issues
See what the next generation of cloud-based spend analytics looks like – and how easy it is to use
The webinar, hosted by Vince Patriarco, Executive Director of E&I Consulting Group, and Bob Valencic, Rosslyn Analytics' Higher Education Strategic Accounts Leader, will feature spend analytics champion and evangelist Kevin Maloney of the University of Pittsburgh. Kevin will provide an illustrated overview of his institution's recent successes in the area of spend analytics.
E&I Consulting Group and Rosslyn Analytics are working together to deliver easy-to-use, affordable spend analytics solutions to every university and college in the United States. Together, we are fixing the problem with old school spend analysis in the higher education sector, and empowering everyone who needs it with timely, relevant, and ultimately actionable spend information.