New York and London – 14 July 2014: In a technological breakthrough, Rosslyn Analytics today announced the release of a new cloud-based self-service spend analytics app that gives finance and procurement professionals the control to identify bottom-line savings and monitor supply chain risks without relying on overstretched IT resources.
Today's news comes on the back of recent research conducted by Rosslyn Analytics, the leader in self-service analytics in the cloud, that reveals that 57% of chief procurement officers need five employees to conduct basic spend analysis – a massive drain on resources. A new approach is long overdue that gives business users the tools to be able to focus on analyzing information faster and more efficiently than ever before.
Procurement continues to struggle with spend analytics – either the data is of poor quality or the tool to analyze the data is difficult to use for non-technical users – and many times it is both of these issues that are preventing organizations from taking savings to the next level.
"Our clients have told us they want better, easier-to-use tools to help them navigate the complexities of managing suppliers and associated risks – and we've listened and responded with a new self-service spend analytics app," said Charles Clark, CEO, Rosslyn Analytics. "Rosslyn Analytics continues to strive to free decision-makers from an overreliance on over-stretched internal IT resources and magic 'black boxes' sold by vendors."
To help organizations improve the ease and speed of conducting real-time spend analysis, Rosslyn Analytics has developed RAPid Self-Service Spend Analytics – a new app that runs on the award-winning, cloud-based data platform, RAPid. Other apps include contract management and supplier performance management.
How it works
"I can't think of any other tool that provides so much control and manipulation of the data. My team of Category and Procurement Managers need 'analysis' in order to develop their procurement strategies. They can now analyze the data in many ways i.e., spend, contracts and suppler performance in a single data platform called RAPid," said Tony Ritchings, Group Director of Procurement, PHS Group plc, a leading provider of workplace services. "In a couple of clicks, they can also correct supplier addresses and conduct advanced line-item categorization."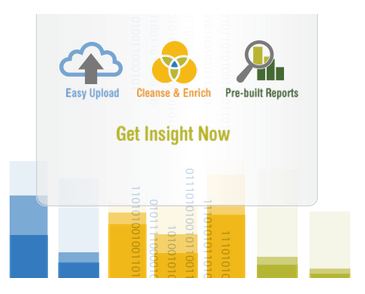 Self Service Spend Analytics
RAPid Self-Service Spend Analytics gives customers unlimited access to simple, consumer-friendly self-service tools. These tools are linked together to provide a seamless experience for users to integrate, cleanse and enrich data for analysis and visualization in the RAPid platform in minutes.
Users simply need to follow three easy steps to obtain line-item spend visibility in five minutes:
Load spend data into the RAPid platform using a CSV file;
Select how you want to visualize your data;
View and drill into your interactive reports from a single dashboard.
The technology tools that have been seamlessly integrated into one spend analytics solution include:
RAPid Self-Service Data Loader enables you to refresh spend visibility 24/7
RAPid Self-Service Address Cleansing App allows you to quickly correct supplier data
RAPid Company Enrichment App enables you to manually enrich supplier data such as credit risk scores
RAPid Self-Service Data Classification Engine enables you to conduct line-item categorization on-the-fly
RAPid Contract Management allows you to connect your spend data to pre-built module
RAPid Report Builder empowers you to create personalized analytical apps in minutes
RAPid Search allows you to find and drill-down from dashboards into line item information in just one click
Pricing
RAPid Self-Service Spend Analytics is free for the first user and just $99/£59 for each subsequent user per month. To access the trial, visit https://rapid.rosslynanalytics.com/NewAccount/Register.