There is seismic shift occurring in the world of procurement, with the reach extending far beyond just one function or data type: procurement is driving business change by adopting the latest technologies and business best practices such as cloud computing and data analytics.
The fundamental shift is recognizing that procurement is more than just buyers of technology – they are a key influencer. Procurement teams, by nature of selecting suppliers, have gained a lot of invaluable insight into the latest market trends. Not surprisingly, many decided to be leaders by becoming early adopters such as embracing cloud-based spend analytics.
Procurement is now advising how other internal departments can use technology to exploit data. By shifting an organization's focus to data, away from technology, businesses can focus on true value-creation that comes from new insights.
A real-world example of this can be found in a visual we created for The National Procurement Service of Wales. This image highlights both the traditional use case of spend analysis and how procurement can deliver tangible savings.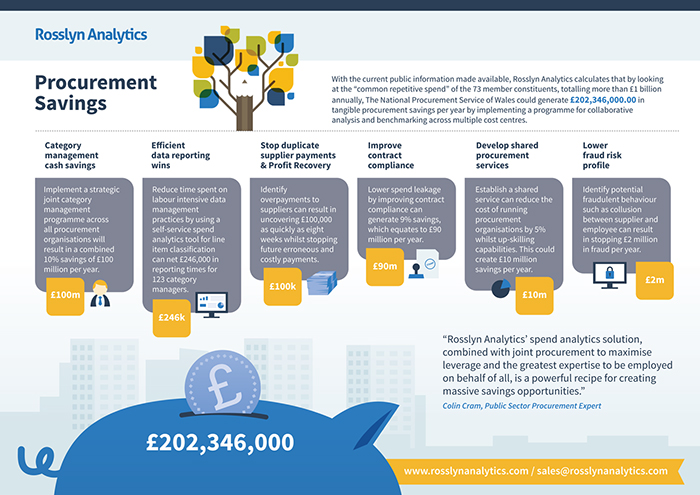 Yet, the most exciting piece is the role procurement plays in entire public sector bodies deliver value by sharing spend data with colleagues. Does The National Procurement Service of Wales need to invest more in technology to achieve this extra value? No. They only need to provide colleagues with the already harvested data from a single reporting platform. Simple.
These figures show that there is a huge opportunity available for cost savings within the public sector if everyone works together. Procurement is behind this transformation but they first need the right technology so they can access and share the relevant data with colleagues.
By shifting the conversation internally, from technology to data, more huge savings and efficiencies can be achieved than before.
Except for employees, data is by far the most valuable asset that an organisation possess; and procurement has an unparalleled opportunity to use data as a vehicle for long-lasting change and improvement.